Campus Facilities
ANANDA MARGA COLLEGE

LIBRARY, AUDITORIUM, PLAYGROUND, LABS, HOSTEL, YOGA & MEDITATION
LIBRARY - The first recorded Librarian was Zenodotus (284 BC) of Ephesus, holding that post from the end of Ptolemy I's reign. He was a Greek grammarian, literary critic, and Homeric scholar.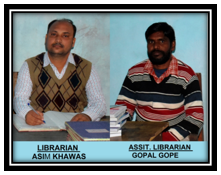 A native of Ephesus and a pupil of Philitas of Cos, he was the first librarian of the Library of Alexandria. He lived during the reigns of the first two Ptolemies. The largest library in the world is the US Library of Congress in Washington DC founded in 1800. Nearly 168 million separate items occupy 530 miles of shelving with millions and millions of books, maps, photographs, sound recordings, rare books, telephone books and much more. The Cartography Section holds 4.5 million items. More than one million doctoral dissertations are at the Library of Congress along with the world's largest collection of comic books. The newspaper collection is also the most extensive in the world with papers dating back to the late 1600s.
S. R. Ranganathan is considered to be the father of library science in the world. The biggest national library in India is Belvedere Estate in Alipore which is located in Kolkata. It is the largest library in the country by volume. It is under the department of culture, government of India, established in the year of 1836.
Famous Quotations –
If there's a Heaven, It's a Library –Anonymous
Library is a place to come together - Anonymous
Library is for regeneration and inspiration. And when I walk through the doors, it is more than a research bank. ~ Jerry Pinkney
"I had found my religion: nothing seemed more important to me than a book. I saw the library as a temple." - Jean-Paul Sartre
"When in doubt go to the library." - J.K. Rowling
"Bad libraries build collections, good libraries build services, great libraries build communities." – Prof. R. David Lankes
"Libraries store the energy that fuels the imagination. They open up windows to the world and inspire us to explore and achieve, and contribute to improving our quality of life." - Sidney Sheldon
"The library is the heart of a school, and without a librarian, it is but an empty shell." - Jarrett J. Krosoczka
AUDITORIUM – The College has a state-of-art auditorium with 800 seating capacity. All the programs, seminars and functions are hosted here.
LABS – Laboratory facilities for subjects like – Geography, Computer, Biology, Chemistry and Physics is available within the college building. New labs for upcoming new courses will soon be constructed.
HOSTEL - The College has Hostel facility for Boys. The intention is to provide lodging and fooding support to far of students with the most conducive Ashramic atmosphere to pursue studies in peace and comfort. There are 2 boys' hostels, each seating 20-40 students. Spacious rooms with single and double occupancy as per availability are available. Separate Prayer room, Kitchen with Dining Hall, Open terrace, Playground, etc are also available. Strict discipline is maintained inside the hostels. Hostel Superintendent is the in-charge of the Hostel.